Prep 15 mins
Cook 35 mins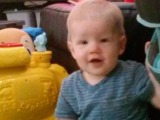 Growing up poor never seemed to faze my mom, she could throw together anything and everything that was in her cabinets and still make our meals the best we ever had. Mom called it "vegetable soup" b/c back then there was no meat in this recipe. Hamburger was added later on when we could afford to buy meat.
Directions
Brown the hamburger and drain.
add the 2 cans of veg-alls.
add the chopped onion and canned tomatoes.
add the tomato paste with 2 cups of water.
add salt and pepper.
simmer for 20 minutes.
serve and enjoy.
Most Helpful
This was too bland and too heavy on the tomato flavor for my tastes. My family ate it but I would not make it again. Very easy, however. I used Sunshine brand mixed vegetables that have potatoes in them (which lines up with part of GreeksWife's suggestion).

I have used a recipe similar to this for years. I add cubed potatoes and sometimes I add a packet of chili seasoning ( like French's). You can also add a can of beef broth in place of the water, if you like and it really doesn't matter if the veggies are canned or frozen. Terrific!