COOKGIRl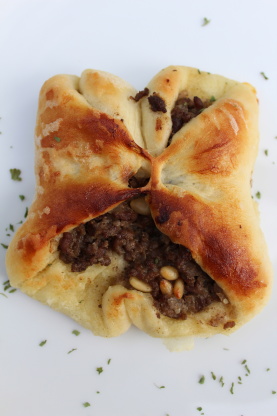 It is a stuffed bread dough recipe that looks great. This one is ground beef. It is inspired by the food doctor at word press.

I love Lebanese food and this is no exception. The dough is easy to make and delicious-the filling
also easy to make and wonderfully aromatic while cooking! Plain yogurt replaced the sour cream for a more authentic take and I used locally grass-fed beef. After making the first three I quickly learned that the water wasn't needed to pinch the dough together at the edges. The water only make the dough gooey. Pine nuts were added as well. Be sure to let the meat mixture cool before placing it on the dough or the dough will start to melt from the heat. A tortilla press was used to form the dough into small circles. Reviewed for NA*ME tag/October.
BREAD:.
Proof yeast with the water and honey.
Add oil and flour with salt.
Knead until ball forms.
Slam dough down on board 10 times.
Let dough rise until doubled.
Punch down.
Cut into egg sized balls.
Let rest while cooking meat mixture.
STUFFING:.
Saute ground beef and onions in olive oil, allspice, cardamom, and cinnamon.
Add tahini, sour cream, and pomegranate molasses.
Stir to combine.
Preheat oven to 450 degrees Fahrenheit.
TO ASSEMBLE:.
Grease a baking sheet.
Roll dough into a small circle.
Place stuffing in center.
Wet the outer edge of dough with water.
Take 2 sides of dough and seal them by pinching between finger and thumb.
Repeat wth other side; will resemble a star with stuffing showing.
Put on baking sheet.
Repeat until done.
Let rise 10 minutes, covered.
Brush with powdered milk mixture.
Bake 10 minutes until underside is cooked golden.
Place under broiler until tops are golden.