Settlement Cookbook Salmon Loaf
Boomette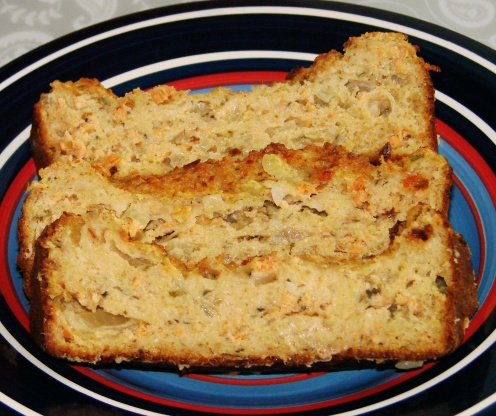 When I got my first apartment, my mom gave me her 1954 Settlement Cook Book. The book is well worn, with tape holding it together. This is one of my favorite recipes from the book. We would have it hot for dinner with a white sauce over the top or some Durkee's Sauce on the side. It is also wonderful leftover served cold. This recipe is very mild, so some people may find it bland, but I love it. Already a great source of calcium, I add a little extra powdered milk to make it even more healthy.
I used the powdered milk, omitted the salt. I put all together in a loaf pan that I greased. And I didn't bake in a pan of water. I baked it like that. It gave a great result. It's a great salmon loaf. This is what my son had for lunch today with rice. I asked him how he liked his lunch. He said that it was so yummy. For him it's more than 5 stars. And he's so happy to eat the same thing tomorrow. Thanks Karen for a wonderful recipe :) Made for Newest Zaar tag
Preheat oven to 350 degrees.
Heat milk in the microwave or on the stove until hot but not boiling.
While milk is heating, place salmon in a large mixing bowl, flaking it with a fork. Add bread crumbs, onions, seasonings, eggs and powdered milk. Stir well.
Add butter to hot milk and stir to melt. Add milk to salmon mixture and stir.
Spray 1 quart casserole dish with cooking spray, then pour salmon into dish. Place casserole dish in a larger baking dish filled with 1 inch of water.
Bake for 1 hour.
Serve topped with white sauce.
NOTE: This recipe can easily be doubled.