lazyme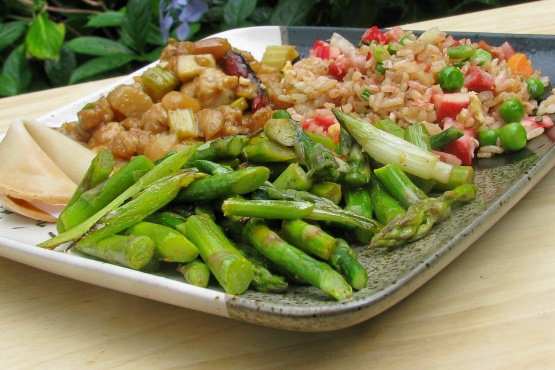 This recipe combines the rich taste of sesame with lemon, accentuating the delicious flavor of asparagus. It is quick to make, making it good for any day of the week. A friend of mine from South Dakota said asparagus grows wild in the ditches there....almost makes me want to move from sunny Florida to cold South Dakota! This recipe originally came from a cookbook called "Savory Secrets: A Collection of St. Louis Recipes".

Great flavor combo, the lemon juice and sesame oil really hit the spot. Thanks for sharing another yummy recipe.
Snap off the tough ends of the asparagus. Remove scales from stalks with a vegetable peeler, if desired.
Cut asparagus diagonally into 1-inch pieces.
Cook asparagus in boiling salted water to cover for 6 to 8 minutes or until crisp tender, drain. Run under cold water to stop the cooking process.
Cook the green onions in butter in a skillet over medium heat 1 minute, stirring constantly.
Add asparagus, lemon rind, and juice; cook, stirring constantly, 2 minutes or until heated through.
Stir in salt and peppers. Sprinkle with sesame seeds and oil.
Garnish, if desired, with sliced lemon and parsley sprigs.