Annacia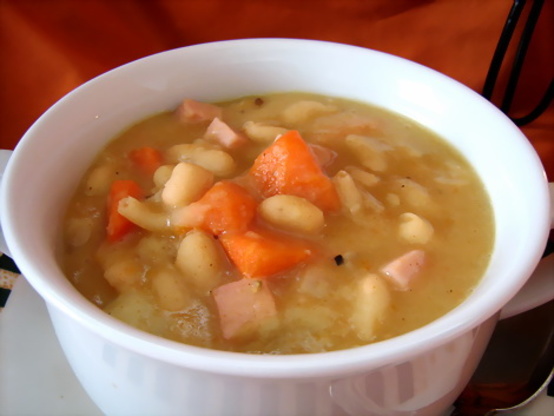 It's a very easy recipe. Start it in the morning and leave it to finish right before dinner! Very wholesome and sticks to your ribs on a cold winter day! Serve with tomato & onion salad (to follow) Quick note: Vegeta is a seasoning found in the Polish aisle of your supermarket, Fantastic product.

With the exception for using white beans instead of red this was made right by the recipe. It's a delicious, hearty dish that is a wonderful for the cold months. This will take care of the hungry man or men in your house. It's mild but well flavored and should be a hit with the kids as well as the adults. My dear friend in Belgrade said that this is not only 100% the real deal but that this bean dish is found on almost all Serbian tables at Christmas Holidays. Thanks Serb Girl for sharing you great traditional recipes with us. They are delicious and most enjoyable.
Add all ingredients in large pot (EXCEPT THE OIL, FLOUR and RED PAPRIKA & SALT). Add enough water to just cover (Don't add more now, you will add a bit of water later.
Cook until veggies are tender, about 1 hour depending on individual stoves. Taste and adjust salt. At this point you can turn off stove cover pot and leave until ready to have dinner. NOW, make roux - in small sauce pan add oil and flour and paprika over med heat stirring so as not to burn. When you can scrape your finger down the back of your wooden spoon and it remains, it's good. Remove from flame, add a ladle of soup from bean pot stirring quickly so as not to clump but still be thick. Pour slowly into large pot w/other ingredients stirring all the while briskly and heat until thickened. Add little water if you feel it's too thick.
TOMATO & ONION SALAD.
3 large ripe tomatoes diced small.
1 large onion diced small.
1/4 cup oil.
salt.
Add into bowl and add oil and salt to taste. Mix together set aside until ready.