Sensational Herbed Chicken
ImPat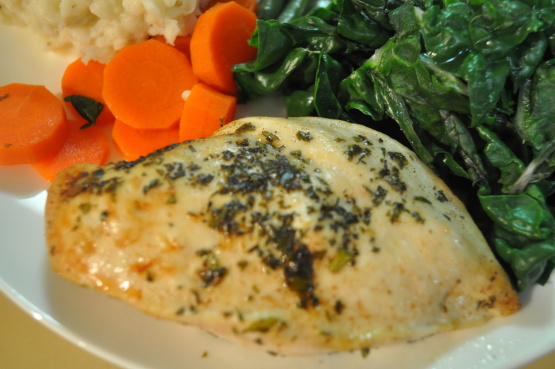 This recipe combines an easy to find ingredient...chicken pieces, with 3 readily available dried herbs to make a wonderfully flavored baked chicken. Easy to make when you come home from work!

I doubled the herb mixture and seasoned the chicken with salt and pepper before sprinkling with the herbs. Tasted great and the lemon wine sauce was superb. Meat was moist and tender. Thanks for sharing this recipe.
Combine the three spices (first 3 ingredients). Sprinkle the herb mixture over the chicken. Brown the chicken, in batches, in the butter in a large skillet over medium-high heat.
Place the chicken in a lightly greased baking dish. Combine the wine and lemon juice; stir well. Pour wine mixture over the chicken.
Cover and bake at 375 for 45 minutes or until the chicken is done.