Thorsten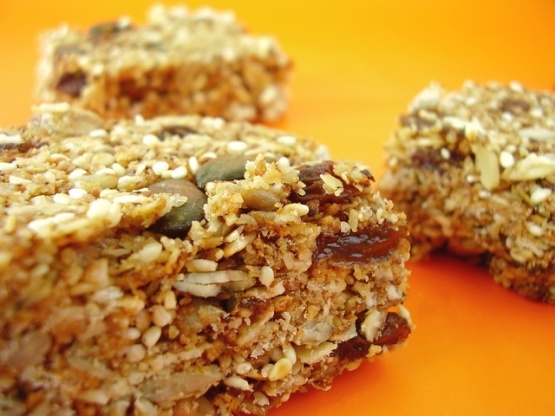 A girlfriend made this for our Bible study group and I couldn't stop eating it! Sesame seeds, sunflower seeds, pumpkin seeds, honey - mmmmmm! Hope someone out there likes it too! And so easy to make!

My son has been making these to take to work for his lunch. We got to try his second batch to which he added almonds, cashews and chia seed to your original posted recipe. Australian desicated coconut is unsweetened, so we thought them not too sweet at all. Only complaint is it's hard to stop eating them.
Grease and line 3cm deep 16 x 28cm baking pan with baking paper.
Cook oats, coconut, wheatgerm, sesame seeds, sunflower kernels and pumpkin seeds in frying pan over med heat stirring 8-10 min until golden. Place in a large bowl to cool and stir in sultanas.
Cook butter, honey and sugar over med heat, stirring, for 3-4 min until sugar dissolves. Reduce to low and simmer without stirring for 7 minute.
Add to dry ingredients and mix well.
Spoon into pan and press down firmly, allow to set for a few hours in the fridge, then cut into slices and enjoy!