Seared Sea Scallops in Mandarin Sauce
Rita1652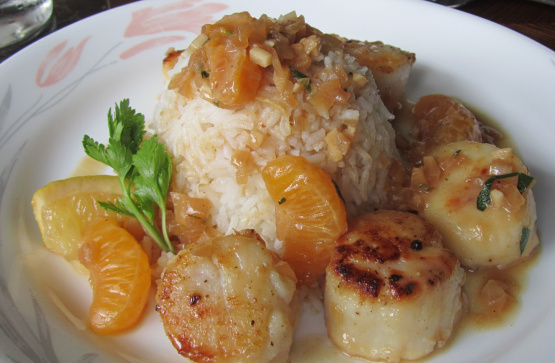 taken from here http://conversationalmandarin.com/article/delicious-seafood-recipes.html so i could save it all into the one spot. edit. have now tested and is very yummy. Could use a touch of chili or paprika to add some spice, will try that next time.

Yummy good. I towel dried the scallops very well. Then I did a very light coat of flour salt pepper and a pinch of sugar for more of a crispness. If you can find dry scallops no need for the flour. I did brown the scallops removed them to make the sauce the added them back to the sauce just to warm. Didn`t want to overcook them.
I did use fresh clemintines, white wine in place of the vermouth. I did add the lemon but see no need for it. And the directions # 6
Add mandarin juice, green onions, and wedge of lemon and let stand for 1 minute. No Green onions in the ingredients. Between the onion and scallots no need for the green onions.
Cheers! made for the Lively Lemon Lovelies of ZWT #8
Start on the rice, prepare as standard.
Heat up olive oil in medium sauté pan at a medium flame.
Sear scallops on both sides until lightly browned.
Add your chopped onions, garlic & mandarin oranges and stir while cooking for 1 ½ minutes.
Then add sweet vermouth and reduce to a low flame.
Add mandarin juice, shallots, and wedge of lemon and let stand for 1 minute.
Add cold butter and stir for 2 minutes.
Add a touch of Salt, Pepper and Parsley to taste.
Serve and Enjoy!