School Days Peanut Butter Chews
Sandi J.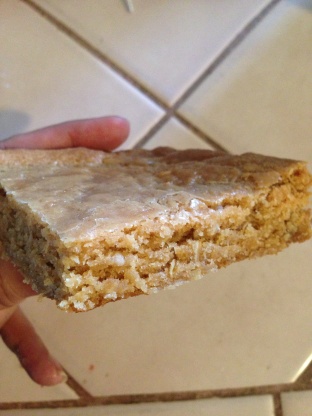 Here is the original recipe from the San Diego Unified School District Food Services Department (printed in the local paper). Does anyone remember these goodies? Brings back memories.....YUM!

Top Review by gijoni
Absolutely delicious! I grew up in San Diego, and used to enjoy these in school. If you are a peanut butter fan, you'll love these. After I made them, I passed them out to a few neighbors and several co-workers. Everyone gave them rave reviews! They are pretty easy to make, but I have a few suggestions to help ensure that they come out just right. First, try grinding up the oats into a fine powder in your blender. Then, sift the oat powder in with the other dry ingredients. If you don't grind up the oats, your chews will have a sort of "oatmeal cookie" texture. Second, the glaze portion of the recipe as written does not make enough glaze to completely cover the chews. Try doubling the glaze portion of the recipe. Third, mixing the glaze ingredients in your blender will ensure a much smoother consistency for your glaze. Fourth, let the chews cool a good 20-30 minutes before you try to put the glaze on them. Fifth, let them cool at least an hour before you attempt to cut them. I hope these suggestions prove helpful! Enjoy!!
Combine butter, sugars, peanut butter, eggs and vanilla in a mixing bowl.
Mix, creaming well.
Sift together flour, baking powder and salt.
Add rolled oats and mix well.
Add dry ingredients to creamed mixture.
Mix until well blended.
Spread batter into a greased 12-by-18-inch cookie pan with sides.
Bake at 350 degrees for 25 to 30 minutes.
Do not over-bake.
For the glaze: Combine powdered sugar and peanut butter.
Gradually add hot water.
Spread glaze on warm Peanut Butter Chews.
Cut while warm.
Cookies will be of a chewy consistency.