Scandinavian Raspberry Soup
Food.com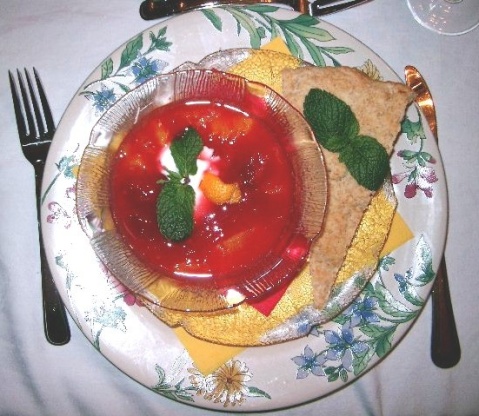 Top Review by P.5316
What a scrumptious soup and a real hit with our Dinner Gourmet group of 8! Everyone raved over how tasty this soup was and wanted the recipe. A definite make again! I juiced fresh oranges and lemons, and removed the membrane from the oranges you place at the bottom of the bowl. It's a very easy recipe to make, prep time incl. soup cooling is about 3 hrs., cooking time about 7 mins. Recommend you start in the morning or early afternoon.
20

ounces red raspberries (2 pk;Raspberries should be the frozen in syrup kind and be thawed.)
1⁄2 cup orange juice
1⁄4 cup lemon juice

1

tablespoon cornstarch
3⁄4 cup chablis (You can use other dry white wines in this soup, but just white wines)
orange section (Fresh)

Garnishes:

orange rind twists (for garnish)
mint leaf (for garnish)
In blender container, puree 1 package raspberries, strain to remove seeds.
In medium saucepan, combine pureed raspberries, orange juice, lemon juice and cornstarch; mix well.
Over medium heat, cook and stir until slightly thickened and clear; cool.
Stir in remaining package of raspberries and chablis.
Chill.
To serve, place several orange sections in each bowl; add soup.
Garnish as desired; serve with sour cream.
Refrigerate left- overs.