Scandinavian Hash (Biksemad)
Bergy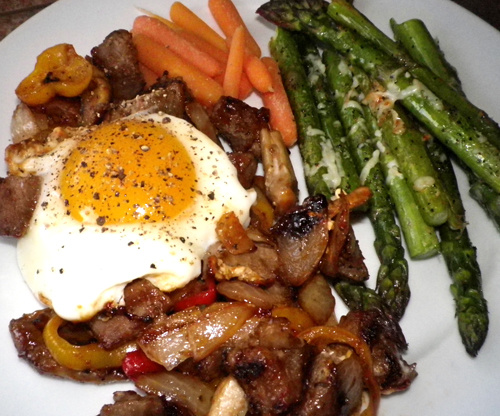 This is a very traditional Danish dish and one that merchant sailors love to make when they come off night watch and want a quick easy hot meal. It is so simple and very good. Great recipe for re-cycling left over roasts etc. Add some peas or some mushrooms, Any left over veggies. The egg is optional but don't miss out on it

Absolutely would make again and if you asked me what time is dinner? It's when I see you come through the door.
3

ounces butter

2

medium onions, chopped
1 1⁄2 lbs cooked cold potatoes, diced

1

lb cooked leftover meat

4

fried eggs (optional)
Melt the 1/2 the butter in a skillet.
Add the onions and saute until golden.
remove from pan and keep warm.
Put the remaining butter in the skillet and saute the potatoes until they are turning brown.
Add meat and cook for 2-3 minutes.
Add the onions and cook until all is heated through.
Traditionally, you put a lightly fried egg on top of the hash, but while this isn't necessary for the dish it IS a delicious addition.