Scallops and Bacon Dijon, Red Lion Inn Style
Peter J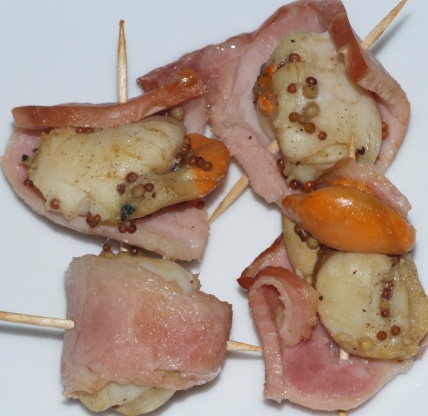 The Red Lion Inn is in Stockbridge, Massachusetts, USA and this recipe is adapted from the Red Lion Cookbook. The white wine brings out the flavour. Cooking time included marinating time. ZWT REGION: USA.

Mmmm! Rather than an appetizer I prepared as a light dinner along with a salad after a hot day. I didn't have any Dijon mustard so used wholegrain instead and that worked really well. The marination gives the scallops a really great taste without being too strong. This is just a perfect way to enjoy fresh scallops without too much hassle!
Clean scallops and pat dry.
Mix together wine, mustard, salt and pepper, add the scallops and coat with the mixture. Marinate for 1 hour in a covered container in the fridge.
Preheat the oven to 250 F (130 C).
Place the bacon slices on a baking sheet in a single layer and cook for 10 minutes or until soft, drain on paper towels and then cut each slice in half crosswise.
Increase the oven temperature to 350 F (180 C ) , drain the scallops and wraps a bacon strip around each one, fastening with a toothpick.
Place the scallops in the baking tray and bake 8-10 minutes, basting with the juice they release.
Serve immediately once cooked.