gailanng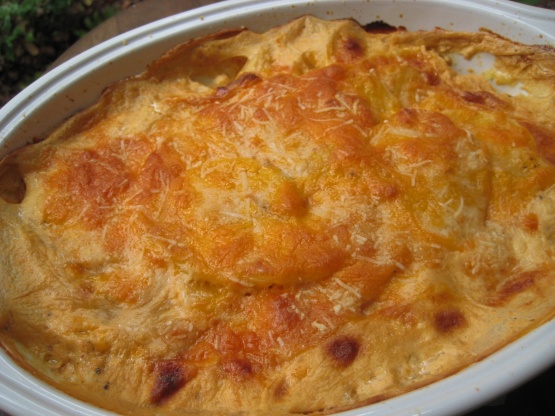 These potatoes were always made for Christmas or other family get togethers growing up. This is fairly simple and comes out tasting great! I used to make these more especially when our budget was tight and it helped that it only needed a few ingredients! Enjoy!

These potatoes are wonderful and wonderfully easy to prepare. I made these as written using fat free evaporated milk. I covered them and baked for 40 minutes then baked them uncovered for an additional 15 minutes. Thanx for sharing. I'll make these again.
Heat oven to 400 Degrees. Shred the cheddar and parmesan cheeses.
Peel the potatoes and cut into slices. Lay the sliced potatoes into a large baking dish in even rows.
Season the potatoes well with the salt, pepper, garlic powder and onion powders to taste. Add the butter by dropping small dallops all around the potaotes, making sure to add butter all around evenly. It may need more butter than listed. Pour the canned milk over the potaotes. Sprinkle the shredded cheeses on top.
Bake for about 40-45 minutes and the potaotes are tender and the cheese is melted.