Julia M.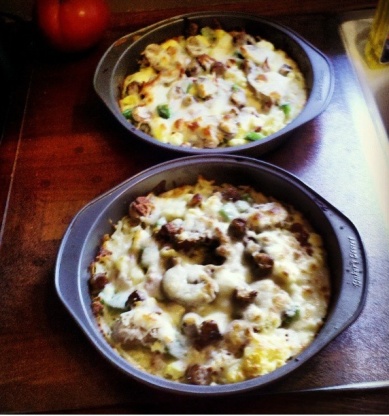 Crisp, delicious hashbrowns make the crust of this fabulous brunch pizza! Topped with eggs, spices, and fresh, crisp veggies, this brunch dish is sure to become a favorite!

This was a perfect brunch recipe. I think I will make it in a smaller pan next time though just so it will come out thicker...it was a little thin for my liking. The flavor was good and the prep very easy. I used Canadian bacon and left off the mushrooms because I wasn't sure my guest would like them. I served this with Glazed Cinnamon Rolls Recipe #99272...which are awesome!...and some fruit. Thanks...I will definitly make this again.
Preheat oven to 400.
Cover a baking stone with parchment paper.
For crust: Combine potato, egg, salt and pepper in mixing bowl. Mix well.
Spread the mixture into 14 inch circle on prepared stone: pat down with back of spoon. Bake ten minutes.
For egg topping: Whisk eggs and milk in mixing bowl. Season with salt and pepper, if desired.
Microwave 3 minutes; stir then microwave an additional 3 minutes.
Spread cooked egg mixtures evenly over potato crust.
Top with ham, mushrooms, green onion, and bell pepper. Sprinkle with cheese.
Return to oven bake 10 min, broil until desired crispness attained.