Savannah Sweet Potato Bread
Sara 76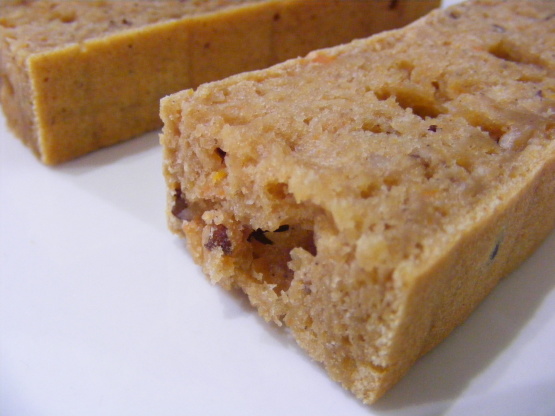 A nice fall bread excellent spread with cream cheese or butter. Sort of on the idea of a pumpkin bread. This was a recipe from Lord & Taylor from quite a few years ago. They had a salute to Savannah Geeorgia and were serving miniatures of this bread at their store resturants. Our Local Paper snagged the recipe from their chef.

While it's suppose to be spring it's quite cool here today and overcast which means it must be a baking day. Went looking through RZ for a recipe to include ingredients I had on hand. I found a can of left over yams from the past holidays in the pantry and the rest is history. The house has warmed up, smells great and the finished product is sitting out to cool. Looks and smells awesome, can hardly wait. Thanks Steve for sharing. Couldn't wait, had a small buttered slice. Oh, soooo goood
In a bowl, cream butter untill smooth. Add brown sugar, mixing until blended.
Beat in eggs, one at a time.
Blend in mashed sweet potatoes, nutmeg and allspice, mixing well.
Add sifted flour alternately with milk, mixing until smooth. Fold in chopped pecans and grated orange rind.
Transfer batter to a greased 8 1/2 x 4 1/2 x 2 5/8 inch loaf pan.
Bake in a preheated 350-degree oven, 45 to 50 minutes, or until loaf springs back to touch and starts to leave sides of pan.
Let cool in pan, on a rack for 10 minutes. Shake loaf loose and turn out onto a rack and cool completely before wrapping in foil to store.
Slice and serve plain or with butter or softened cream cheese.