loof751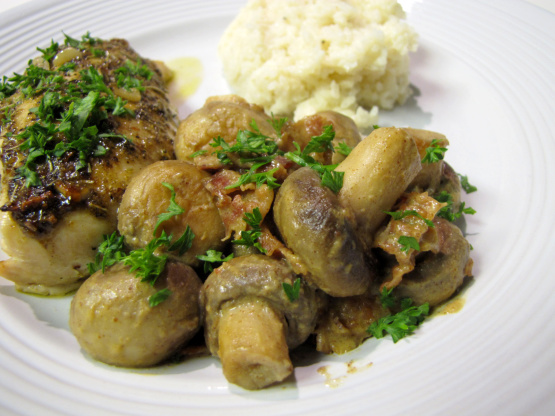 This is one of a slowly growing number of recipes with mushrooms that I really enjoy -- At least they aren't limp & lifeless here, but rather full of zing & substantial! the recipe comes from the 2003 Better Homes and Gardens' Simple Meals cookbook(let)!

Delicious mushrooms! I used the precooked bacon and grainy brown mustard. The mustard and bacon flavor are great with the mushrooms. Loved these - thanks for sharing the recipe!
In a heavy skillet cook turkey bacon over medium heat until crisp, then remove to drain on paper towels. Reserve drippings in skillet.
Add olive oil to reserved drippings, then cook & stir mushrooms in hot oil for about 1 minute or until they just start to brown.
Cover & cook about 7 minutes or until mushrooms are just barely tender, stirring occasionally.
Stir in cooked bacon & mustard, then heat through.
Remove from heat, sprinkle with parsley & serve.