Prep 10 mins
Cook 15 mins

This is an old peasant side dish from eastern Europe. We enjoyed this especially when the garden was stocked full with tomatoes and peppers. The only thing I've changed over the years is I add the basil, oregano, and mint. Basil, and tomatoes are dance partners. Mint is for those that are bothered by the acids tomatoes sometimes give off. Mint soothes the stomach. The combination goes well. Plus I have also added other vegetables like mushrooms, zucchini, fresh string beans which alter the flavor ever so slightly but a new dish appears on the tables.
Directions
Heat oil in a large skillet.
Sauté onions, and peppers until slightly tender.
The onions will be translucent.
Add tomatoes (If you have none you can substitute whole stewed Italian plum tomatoes- a lg. can) Add the rest of the ingredients.
Cook only 10-15 minutes until slightly thickened.
You can eat this as a side dish alone, or over rice or meat.
If you like it spicy add hot pepper flakes, or a small hot pepper.
Most Helpful
This dish is definitely delicious, but it's not satarash. Statarash does not taste like that at all. It is never made with the Mediterranean herbs and vegetables. It is typical Central/Eastern European dish made of onions, peppers and tomatoes. The only herb that can be added is parsley. This is like adding meat to a vegetarian dish and still calling it vegetarian. The dish you describe is very similar to French ratatouille.
Wonderfully flavorful, herbs were perfect. I did cut back on the oil a bit, to approximately 2 teaspoons with no problems and used 1/4 teaspoon dry mint. At first I thought the proportion of tomatoes was going to be too high but it was not. I used several baby roma tomatoes that looked better than the plum tomatoes at the store, as well as 3 large tomatoes which I did not bother to skin and deseed. (However, I did cut them up of course, along with the peppers.) Instead of red pepper I used orange for a nicer color (yellow would look good too). I am a big fan of fresh basil but BF is not so I added the whole 1/4 cup to my portion and leftovers, which I will be eating with bulgar for lunch today. Red wine and crusty bread with this sounds good too. Thanks very much!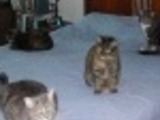 followed recipe exactly and had myself a delicious satisifying and healthy meal for dinner tonite. i did use roasted garlic cloves rather than minced and i added a few slices of good italian bread and a bit of red wine. super combo, thanks for the recipe.