Sarge's Spaghetti Polpette
Stacky5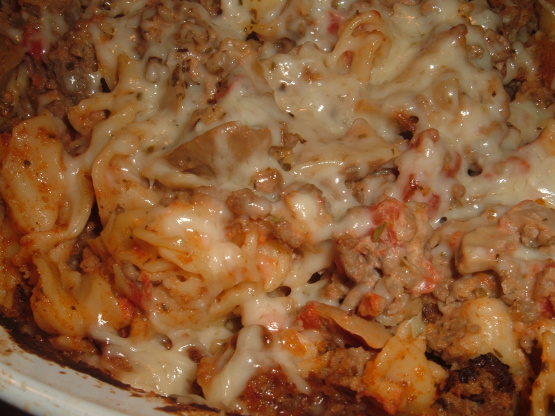 This is a delicious beef and noodles recipe that I found somewhere years ago and my family loves it. I hope you will enjoy it as much as they do.

This was really good. I do think that it needs a bit more spice and perhaps more cheese and garlic, but that could just be my family's tastes. The basic recipe is very easy to follow and very filling. I loved the addition of the sausage! The only other thing I had to change was the cooking time, because after 1 hour of cooking at 300 degrees, the noodles seemed to be getting over-done, so I took it out of the oven after 1 hour. I will make this again, adding some garlic, Italian seasoning, Oregano and maybe some shredded cheddar or moz cheese on top, but this is a really easy and really good recipe. (In fact, I re-heated some the next day with some shredded moz cheese on top.) :)
Preheat oven to 300.
Brown beef and sausage in the olive oil.
Remove meat mixture and set to the side without removing pan juices. (a slotted spoon works well).
Saute onions in remaining pan juices.
Drain onions and add to the meat.
Cook noodles about five minutes in slightly salted water, drain and transfer to a large baking dish or casserole dish.
Stir in meat and onion mixture along with remaining ingredients. DO NOT INCLUDE THE BREAD CRUMBS.
Sprinkle bread crumbs over the top.
Cook at 300 degrees for 3 hours.