Peter J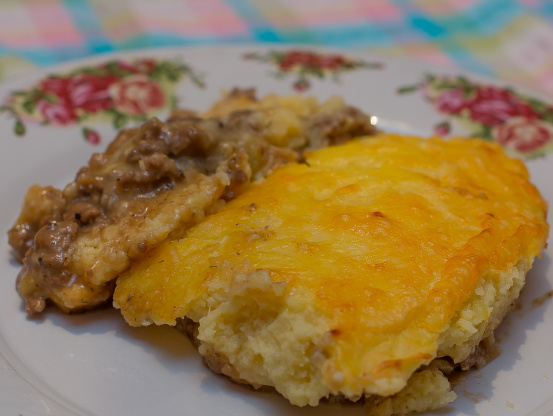 I love making this. It's such a nice winter meal, and it's so easy and quick, and best of all..so economical!! Growing up, Mum made shepherds pie almost weekly. Over the years I have altered it, and this is the way my family enjoys it now. We don't serve this with anything, except maybe a nice bread roll.

My whole family loved this. My son who does not like meat had 3rds. It was great, and I will for sure be making this again! Thanks for the recipe.
Heat olive oil in a large saucepan. Cook onions untiil tender, add beef and carrots.
Stir in gravy powder, garlic, pepper, and herbs.
Add enough water to just cover the meat mixture, stir, cover, and simmer until thickened, stirring occasionally.
Remove from heat, and set aside to cool.
Boil the potatoes until tender. Drain, and mashe with butter and milk.
Using electric beaters, beat eggs into potato until creamy.
Pour the meat mixture into a casserole dish.
Top with mashed potatoes. You can spoon the potatoes on, or if you want a nicer presentation and you have the time, pipe on with a piping bag.
Top with grated cheese, and bake at 180C for around 30 minutes, or until cheese has melted and just started to brown.