Parsley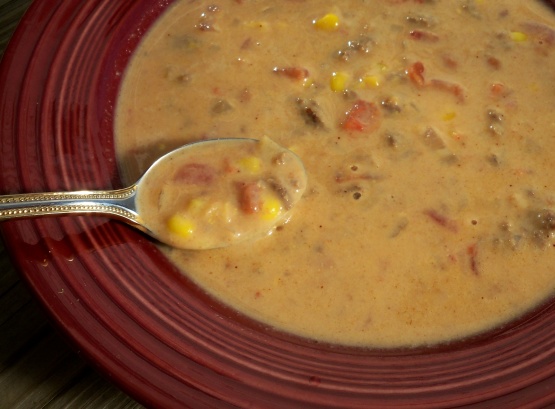 This is so good! It's nice and cheesy and oh so easy to put together. Really good with slices of hot cornbread. I got this recipe from my Mother who is a wonderful cook. Cook time is time it takes to melt the cheese in the soup mixture.

There are some choices to make within the recipe. Mexican Velveeta comes in hot and mild. Rotel comes in regular, mild, and two others. I chose the hotter versions of both and I'm glad I did because I like hot stuff. I made this twice. The 2nd time I used 2 cans of no-salt black beans instead of one can of pinto beans. I greatly prefer the black beans. Both times I used frozen corn instead of canned to reduce the sodium content. To make up for the liquid in the can of corn I added 1/4 cup of low sodium beef stock. I tasted it before adding the Velveeta. It was darn good without it. Next time I may use half the amount of Velveeta or eliminate it and top each serving with grated pepper cheese instead. By the way, cubing Velveeta was interesting. It glued itself back together after the knife went thru it. But it melted like a dream. Next time I think I'll use two cans of black beans because I liked them, two cans of stewed tomatoes because I like them, and no Velveeta, adding grated pepper cheese to the top instead. Or less Velveeta and add grated pepper cheese on top. Or..... Whatever I do, I think I'd like a sprinkling of sliced green onion on top. And of course, chives, since mine are already up.
Brown ground beef with onion; drain fat well.
In a large pot combine ground beef, corn, beans and stewed tomatoes and Ro-tel tomatoes.
Cube cheese and add to soup pot; stir over low flame until melted and blended.