alligirl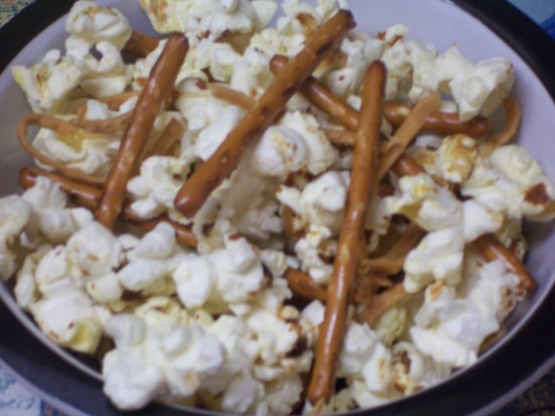 Not only is this salty, but it's buttery-garlicky, too. And if you use buttery pretzels, all the better! Make plenty for your next party!

This was good, and different. I think it would be great to take on a trip; my DS (5yo) helped with the measuring of the dry ingredients. I used 2 bags of microwave light butter popcorn, pulling 6 cups out of them. I think some honey roasted peanuts, thrown in a the end, would add a foil (sweet) to the salty flavor. I will be making this again! Thanks, EdsGirlAngie, for sharing.
Preheat the oven to 250 degrees F.
In a small saucepan (or in the microwave), melt the butter.
Remove from heat and stir in the soy sauce, garlic powder and ginger.
Place the popped corn, chow mein noodles and pretzels in a large roasting pan.
Pour the butter mixture over the popcorn mixture and stir to coat thoroughly.
Bake the mixture uncovered for about 40 minutes, stirring periodically.
Remove pan from the oven and let cool to room temperature.
Store in an airtight container for 2 to 3 weeks.