Kim127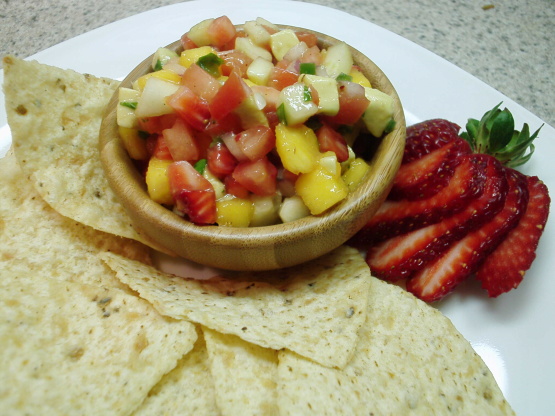 This recipe was a combined creation from Las Mistico Magicos Sirenas for the Salsa Challenge (Zaar World Tour 5) Each Team Member picked an ingredient that represented them: *Strawberries - JanuaryBride* *Jalapeno - Katzen* *Red Onion - Kim127* *Mango - WildFlour* *Lime - Muffin Goddess* *Cumin - Helen Hes* *Cilantro - Leah's Kitchen* *Avocado - KristinV* *Tomato - Jackie #6* *Cucumber - Tiny Bubbles* Amounts kindly provided by JanuaryBride who put together the first batch! GO LAS MISTICO MAGICOS SIRENAS

Top Review by Kim127
Our Sirenas created a lovely salsa here! I never would have thought of strawberries on my own, but loved the addition. As a personal preference I would leave out the avacado, I am finding that while I like avacado, I am not a fan of it in salsa. Made for Las Mistico Magicos Sirenas - ZWT5. Gracias mis señoras encantadoras!!!!!
Combine all of the ingrdients and use as desired.
Would be fantastic as a dip with cornchips, as a topping for mexican dishes (tacos, burritos etc).