Salmon With Cilantro and Roasted Serrano Aioli
wifeys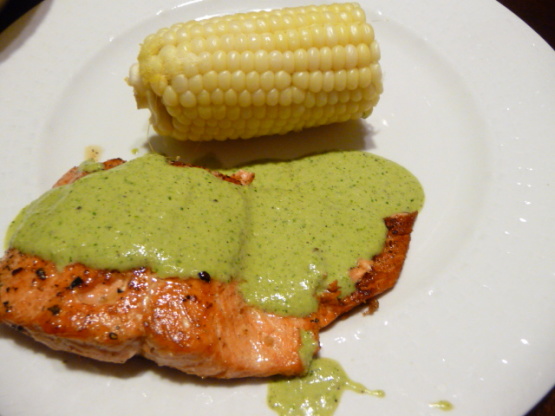 While looking for different recipes for salmon, I came across this and thought what a wonderful summery way to make salmon.Recipe source: The Turtle Bay Cookbook

Top Review by wifeys
This was great! I changed the amount of olive oil to only 1/2 cup mainly because I didn't have enough, but it was still great. I also used 3 roasted Anaheim peppers to make it cooler, since I can't take the heat. Hubby thought it was great and ate it all. I used what was leftover for salad dressing since it made about 1 1/2 cups of sauce. I like an easy recipe and this one fits that bill.
To prepare the sauce, using a food processor or blender place mayonnaise, salt, lime juice, garlic, roasted chiles, vinegar and cilantro and process for 1-2 minutes. With the processor still turned on, pour oil through feed tube in a thin stream until all the oil has been incorporated. Transfer sauce to container and refrigerate until ready to use (makes 2 cups sauce-refrigerate leftover sauce).
To prepare the salmon: seaon both sides with pepper.
In a large skillet, heat peanut oil over medium heat.
Add fish to skillet and cook, turning once about 7-10 minutes or until done and cooked through.
To serve: Top salmon with a spoonful of sauce and cilantro sprigs (if desired). Pass remaining sauce.