Salmon or Tuna Steak With Garlic and Parsley
Bergy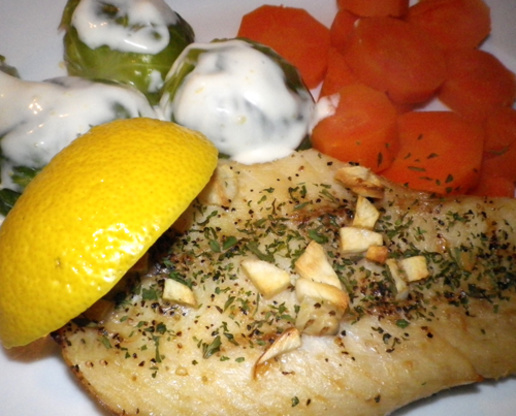 Discovered this recipe in The Great Victorian Cookbook by John Midgley, published in 1995...Placed here for safekeeping! Adapted for tuna or salmon instead of the hake steaks that the recipe originally called for I always enjoy this light dish with a steamed thai vegetable mix that I get in the organic section of the supermarket and some sweet iced tea...

Top Review by Bergy
This is weird on my recipe copy (printed out) the recipe reads Hake with Garlic and Parsley - I substituted Basa filets. I didn't want to open a bottle of wine - had no grape juice so I used Lime vodka - wonderful! and instead of frying the garlic iI placed it on the filets while baking them. The dinner was wonderful Thanks Cookin'with gas for posting
Preheat oven to 375°; rinse the tuna or salmon and pat dry with a paper towel.
Place in a small shallow oven-proof dish, then season with salt and pepper; drizzle with half of the olive oil and all of the wine or grape juice.
Bake 20 minutes, basting every 5 minutes; when the fish is ready, place each fish steak on a plate and keep warm.
Heat the remaining olive oil in a small skillet; gently saute the garlic until lightly golden, do NOT burn or it will be bitter!
Throw in some of the parsley, shaking the skillet a few times to mix; Spoon mixture over the warm fish and serve garnished with lime wedges.
Note: if yellowfin isn't available, you may also use ahi tuna or albacore tuna steaks.