Rita1652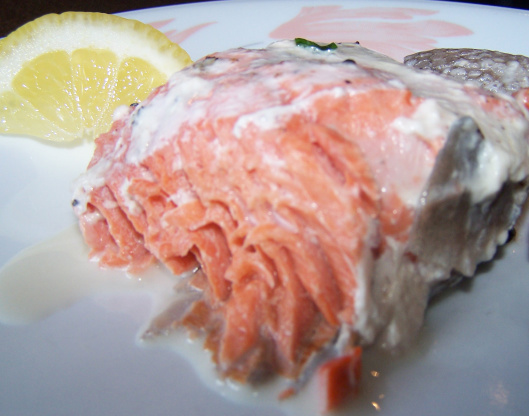 This is an easy and delicious way to serve salmon. The cream keeps the fish moist and if you choose a dish the steaks fit in snug but not too tight, the amount of cream is not all that bad. You could try this with half cream; I have always used cream because it makes a nice sauce. The lemon quarters are served with the fish if you want to sharpen the sauce a little. This recipe is easily made for 2 or 20 people (the four servings in this recipe are just a guide line) as long as you cover the fish with the cream. Keep an eye on it, if the cream reduces too much you have to add a bit more. Nice served with parsley covered new potatoes.

This is totally outstanding! This fits in perfectly with the diet I'm on now (Somersizing) and you can hardly believe you are dieting when you have such delicious food on your plate. Okay, this is not an advertisement for my diet. I had a whole fillet of salmon in my freezer (about 2 pounds) which I cut up into serving portions while still slightly frozen. I also zested the lemons and mixed that in with the cream, salt and pepper and the nutmeg. This was truly one of my more enjoyable suppers and I discovered this morning that it heat up beautiful in a microwave, as long as you don't do it on full power. Annelies, thanks so much, I'm going to be forwarding this to all my friends that are on this diet!
Preheat oven to 375 degrees F.
Season the salmon steaks with salt and pepper.
Butter the ovenproof dish, put in the steaks and add enough cream to cover them.
Add the bay leaf and a grating of nutmeg.
Bake for 20 to 25 minutes, or until the salmon is cooked, basting with the cream once or twice.
Serve with the lemon quarters and the cream.