Salmon and Asparagus in Foil
ChefLee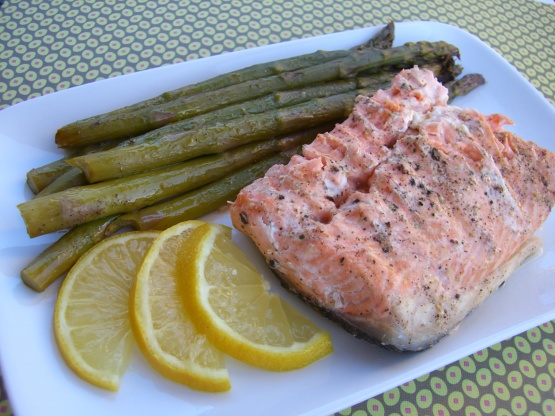 This is a quick and easy dinner. Pop the packets into the oven while you set the table and in 15-minutes you have a nutritious dish with virtually no clean up. Serve this with a rice or couscous dish and extra lemon on the side. This recipe was found at another web site.

This recipe changed the way I think about cooking fish. It also got me and the bf eating asparagus! I make this at least every other week. It's great exactly as written or you can experiment with different spices/sauces. One of my favorite variations is soya sauce and maple syrup with garlic. I've also used brocolli and/or yellow zuchini when I didn't have asparagus on hand. I usually use the affordable frozen portions of salmon and it always turns out great, you can it even cook it from frozen for a few minutes longer and it turns out the same! Thanks for a keeper!
Preheat oven to 450 degrees.
Snap the ends off asparagus spears (they will break where tender) and divide into 4 equal portions.
Spray the center of each foil sheet with non-stick cooking spray.
Place one salmon fillet in the center of each sheet, top with a serving of the asparagus and drizzle with lemon juice.
Sprinkle with fresh ground pepper and salt or seasoning blend as desired.
Bring up the sides of foil and fold top over twice.
Seal ends, leaving room for air to circulate inside the packet.
Place packets on a cookie sheet and cook in oven for 15 to 18 minutes or until salmon is opaque.
Serve with lemon wedges on the side.
Please use caution when opening the foil packs, as the steam is very hot.