Salade Curichoise ( Potato Salad W/Ham, Celery and Cream)
Pneuma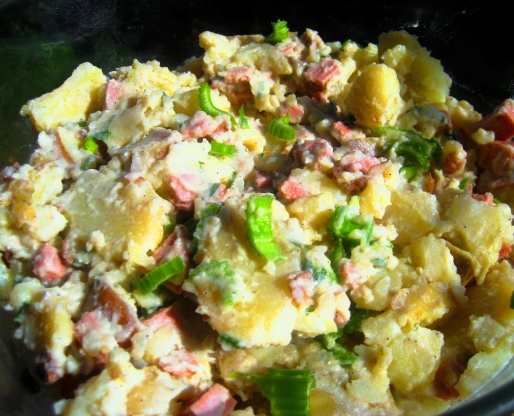 This rich summer salad from Normandy is wonderful with smoked or cold poached fish. To vary it, add chopped hard boiled eggs and or capers.
Boil the potatoes with the skins on, just enough water to cover and a tablespoon coarse salt (do not overcook; the potatoes should remain firm enough to slice when cooled).
Drain and cool slightly.
Slice potatoes 1/4 " thick while still slightly warm.
In a large bowl, combine cider vinegar, salt and pepper to taste, mustard and stir. Add the creme gradually, whisking slowly for two to three minutes.
Add the sliced potatoes, celery and ham and mix well but gently.
Adjust seasoning.