Ruth's Beer Marinated Meatballs
lets.eat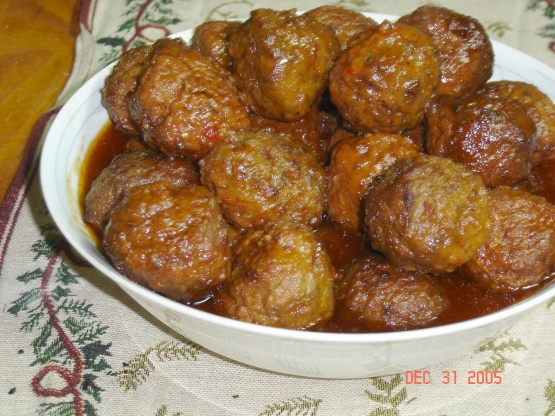 Got this recipe from a coworkerThese are so easy to make and everyone (especially men!) love them. They never last. You can make in crockpot or on the stove. Edited to add: Just wanted to mention that these are intended as an appetizer. I should have noted that originally. As a main dish, you probably would need to significantly reduce the sweetness. Also, the darker the beer, the more impact it will have on the flavor.

Was invited to dinner at 3 PM and not much in the pantry to "take along". This turned out well -- used about 20 meatballs, enough to cover the bottom of the crock-pot, and about 4/4 of of the jar of chili sauce. Left out the sugar, as noted by another reviewer. Cooked on low for about 1 1/2 hours - and they actually had a tad zippy taste -- may vary with the type of beer. Thanks for posting -- I will keep this handy.
Combine chili sauce, beer, sugar, and Worcestershire sauce until well blended.
Add meatballs and stir until well coated.
Cook over low heat until heated through, about 1 hour.