Rosemary Herbed Cornish Hens
Monica P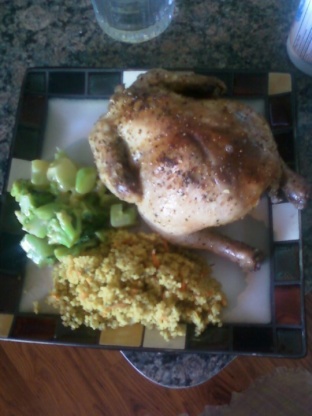 Even though they are little they will fill you up, I usually serve this with whole wheat cous couse and a veggie.
Preheat oven to 450 degrees F (230 degrees C).
Rub hens with 1 tablespoon of the olive oil. Season hens with salt and pepper dried rosemary and garlic powder. Place 1 lemon wedge and 1 sprig rosemary in cavity of each hen.Arrange in a large, roasting pan, cover with foil and roast in preheated oven for 25 minutes.
Reduce oven temperature to 350 degrees F (175 degrees C). In a mixing bowl, whisk together wine, chicken broth, and remaining 2 tablespoons of oil; pour over hens add garlic to pan. Continue roasting about 25 minutes longer, Baste with pan juices every 10 minutes or so until hens are golden brown and juices run clear.
Transfer pan juices and garlic cloves to a medium saucepan and boil until liquids reduce to a sauce consistency, about 6 minutes.
Spoon sauce onto hens.
If you wanna be fancy garnish with rosemary sprigs, and serve.