Annie S.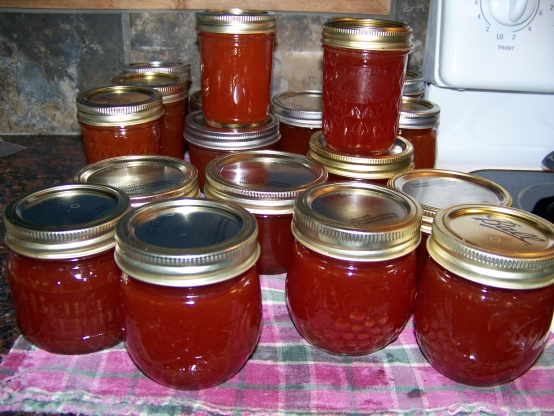 This is a recipe that comes from the Yukon Territory, but rosehips grow anywhere roses grow. You will lose a lot of the beneficial vitmin C when you boil this, but you still get the wonderful taste of the rosehips! Adapted from FoodService Recipes. What a great gift this would make!

Top Review by Aliea
This recipe didn't set up at all. I should have guessed w/just the volume of juice, I'd need at least, two packets of Certo instead of the one. I'll also be using more rose hips (I'll gather 12 c, because I actually used 10 this time!), adding 1/4 c lemon juice to assist the set-up, and with those two changes I don't think I'll need as much water, which could also have effected the set-up? I only added 1 cup water. Thanks for the starter-recipe, but I just don't think it works as written. Again - got me started though, so thank you!
8

cups rose hips
7 1⁄2 cups sugar

1

(3 3/8 ounce) envelope liquid pectin (Certo)
Remove the blossom remnant from the rose hips.
Bring the rose hips and enough water to cover them to a boil and simmer for about 10 minutes.
Crush the rose hips or chop in a food processor.
Strain the juice in a cheesecloth-lined sieve.
Add any additional water if need to bring the juice up to 4 cups.
Bring the juice and sugar to a boil.
Add the margarine, then the liquid pectin.
Bring back to a boil, stirring constantly; boil hard for 1 minute.
Remove from heat.
Skim foam from surface.
Pour into sterile pint jars and seal.
Process in boiling water bath for 5 minutes.