Chickee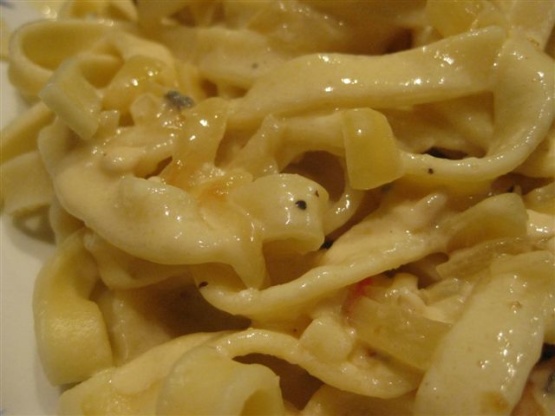 A lovely sauce to go with steak, or even just to dip chips (French Fries) into!

I made this as a trio of sauces to go with some fresh fettucine. I *love* roquefort, although I think this sauce would go well with a danish blue too, it was almost a shame to use the roquefort as it was humblingly expensive. It does taste strong, but once over pasta it is fine; a little extra cream will make it more of a sauce consistency. Mine took some time to blend. Thanks!
You will need just a knob of butter. The cream must be Double (Heavy) cream or it will split when being cooked.
In a small saucepan melt the butter over a low heat and add the onion. Saute until soft but not coloured.
Turn the heat up and add the Brandy, stirring for a minute.
Turn the heat back down and add the Roquefort and stir with a wooden spoon when it starts to melt add the cream.
Don't let it boil or it will go too runny and may curdle.
Stir until heated through and serve immediately.