2Bleu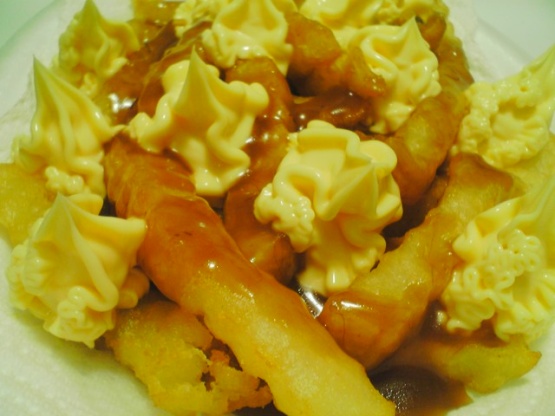 Leggy Peggy told me I had to post more of Robby's secrets...so here's one of my favorite appetizers. The steak fries are drenched in a wonderful roast beef gravy (with a few tidbits of beef) and a yummy cheese sauce. Simple but scrumptious!!! Make this when you have leftover roast beef and gravy.

I don't use frozen french fies, but quite similiar to Putine. This is good.
1

lb frozen french fries, steak-style

1

(12 ounce) can beef gravy, leftovers from your roast works great

1

cup cheese sauce, cheddar (or nacho)
salt and pepper
You can always use frozen potatoes (baked), canned beef gravy (heated), and canned cheese sauce (heated) but it will be much better if you don't go that route and actually use the home-made stuff.
To assemble: Place steak fries on an oblong plate, cover with beef gravy (it's even better if there are bits of beef thrown in) and cheese sauce.
Give everyone a fork and knife and let them eat right off the platter. It's great fun! (:.