Roasted Vegetable Puree Mac and Cheese
Rita1652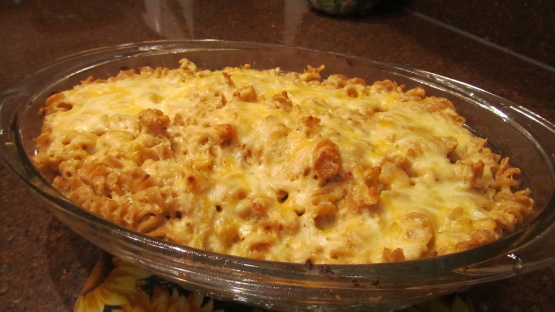 This variation of mac and cheese is chock full of vegetables, they actually make the sauce. It is definitely healthier than most mac and cheese and to me tastes just as nice. You can try any vegetable puree that you like, but my favourite is kohlrabi, so Ive listed that in the ingredients. I got the idea for this from the chowvida blog: http://chowvida.wordpress.com/2012/03/12/macinsquash/

A variety of root vegetables were used in place of kohlrabi: sweet potatoes, golden beets, Yukon gold potatoes, parsnips, rutabaga and turnip. Whole milk, fresh herbs from the garden, and I roasted the onion and fresh garlic with the vegetables. I like whole wheat elbow macaroni and I used up a bunch of odds and ends cheese including Parmesan and gruyere. Made for Veg Tag/March. Will make again-very tasty!
First make your roasted vegetables: Toss kohlrabi and onion with oil and spread out on a paper-lined baking sheet. Roast in the preheated oven at 190°C/375°F for 30 minutes.
Transfer to a big bowl and combine with the spices/herbs, milk and reserved pasta water. Puree (I used my hand-held blender). It should have the consistency of yogurt.
Combine with cooked pasta and spread in a casserole dish. Sprinkle with cheese.
Bake in the preheated oven at 190°C/375°F for 25 minutes or until nicely browned and bubbling.
Enjoy!