Olive*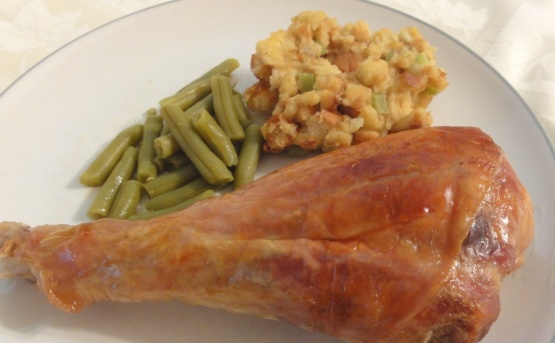 Small scale turkey dinner.

I LOVE LOVE LOVE this recipe!! What a wonderful method to ensure that the turkey legs are cooked through! My legs were done and juicy at 1 1/2 hours and they had the distinctive turkey flavor, like the festival legs! I used chicken broth instead of water to roast the legs. I will do this for Thanksgiving too!! It is so easy and everybody wants the drumstick anyway!!! Thank you for this great recipe!!
3

stalks celery, cut in thirds

3

turkey legs

6

tablespoons butter

1

dash salt, to taste
1⁄2 cup water, as needed
Preheat oven to 350 degrees F. rinse the turkey legs and pat dry.
Stand the turkey legs upright (as if turkey were standing). Press a knife downward into the deep tissue, creating 2 or 3 long pockets. Press a piece of celery into each opening. Pull back the skin on the legs, rub with butter, and season lightly with salt. Lay the leges in a roasting pan.
Roast uncovered for 1 1/2 to 2 hours, until legs are golden brown and the internal temperature is 180 degrees F when taken with a meat thermometer. Add more water if needed while roasting and baste occasionally with the juices or butter.