Roasted Root Vegetables With Maple Balsamic Dressing
JustJanS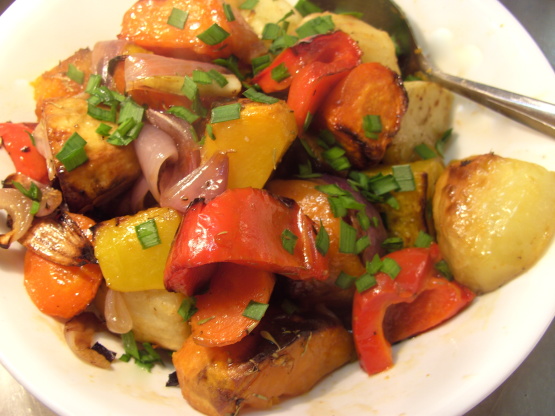 Use your choice of vegetables including parsnips, potatoes, celeriac, red onions and beets or go with all orange and yellow as given in the recipe. Looks as good as it tastes. From Bonnie Stern's Essentials of Home Cooking.

We eat a lot of roast vegies, but the dressing adds another fantastic dimension to them. I made this using a mix of potatoes, sweet potatoes, red capsicum, red onion, carrot and pumpkin. I couldn't get parsley so used chives instead. Shall be making this again soon!
Combine the prepared vegetables in a large bowl and toss with oil. Spread onto a large non-stick rimmed baking sheet. Use parchment paper if you like, but I didn't find it necessary.
Roast at 375 degrees for 45 to 60 minutes, stirring once or twice, until browned and tender.
Combine the vinegars and remaining ingredients in a small bowl and toss with the hot, cooked vegetables. Sprinkle with parsley.