Debbwl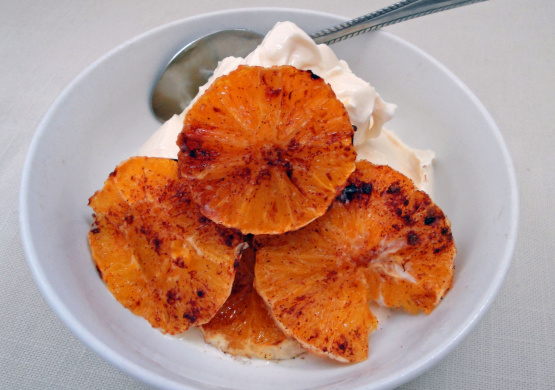 The idea for the oranges was originally found on Just A Pinch, in a recipe by Kim Biegacki for Blackened Shrimp Salad with Roasted Oranges. It was a wonderful salad, but what made the dish was the roasted oranges. My... what a wonderful aroma while they are broiling! It totally made the dish. I'm posting just the roasted oranges because they are awesome and there could be so many uses for them... I think they would be fantastic over homemade vanilla bean ice-cream. Serving size is a guess - I could eat a whole orange-worth by myself!

These are yummy...I was going to serve them with a salad...but hubby up and ate all but one...that one I got...he agrees with the chef that these would be very tasty served warm over vanilla ice cream...I cooked mine in the toaster oven for 20 minutes and still they really didn't get brown...next time I will try the broiler in the oven...thanks for posting this tasty little dish...made for Spring PAC 2013 =)
Line a small baking tray with foil, then spray with a bit of oil.
Peel orange by removing the skin and the white membrane, then cut into 1/4 inch thick slices. Lay flat on the foil lined tray.
Drizzle with a good vanilla extract, then sprinkle generously with cinnamon. Finally, drizzle honey generously over each slice.
Place oranges in oven or toaster oven, set to "broil".
Broil until they are nice and brown on top. In my toaster oven, this takes about 15 minutes, but probably less in a regular oven.