Rita1652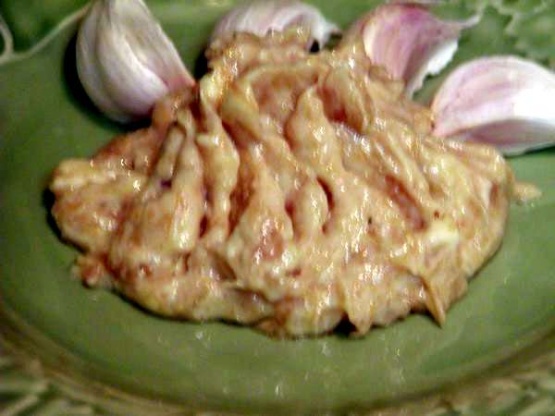 This is great on veggies, potatoes, pasta, rice. Top a grilled steak, fish or chicken. Spread on your favorite bread or dip a breadstick into it. Blend into cream cheese for a garlic spread. The uses are endless.

You don't know how great is this until you don't try it!Luckily,my little ones like garlic too,so I mixed some in their sour cream.That was the first thing gone from their dishes!Thank you,Rita.
Cut garlic crosswise in half and spread some oil on cut surface, wrap in foil.
Roast in 375°F oven about 45-50 minutes.
Till soft and golden.
Squeeze the meat out of the skins season with salt and pepper add enough oil to taste while using a fork to smash till smooth and creamy. Mix in rosemary.
Can be frozen.
Just bring to room temperature and mix with a fork.
Use on whatever you like or do like me and use on everything!