Diana 2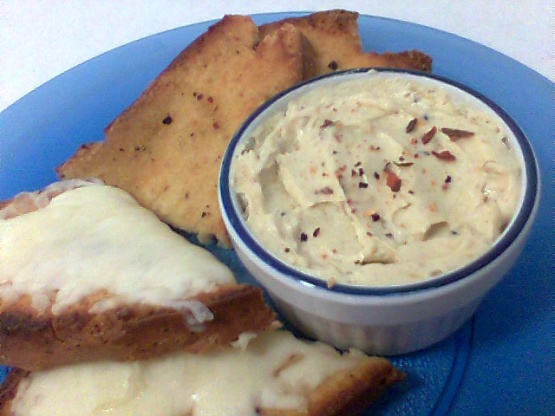 I recently discovered a recipe for making garlic paste. Roasted Garlic Paste. I've used this wonderful ingredient to make a fantastic butter. I initially used it to make garlic bread, but have also discovered it works perfectly in preparing mashed potatoes, sauteing meats and also drizzled on vegetables and pasta. As you can imagine, the possibilities are endless. Note: Serving size is dependent on how it is used.

When you said the possibilities were endless WOW you weren't kidding. So here's my take on it -- how about a throw-together Sunday dinner: shredded leftover rotisserie chicken, pasta noodles, bell pepper, parsley, scallions, and a little Emeril Italian seasoning? But before you throw it all together you melt some of the roasted garlic butter over the hot noodles, add the rest of the ingredients and then top the whole thing off with Parmesan cheese. Throw in a bag-of-salad and your done. Does it get simpler or better than that? The only thing I omitted was the roasted red pepper flakes (only because my tummy doesn't do "hots"). WOW, Diana -- thanks for a great recipe. Can't wait to experiment with this in other ways!!! Made for the Auzzie/NZ Recipe Swap #25.
Whip together all ingredients till fluffy.
Spread on bread.
Broil until brown.
Try adding mozzarella cheese also.