Roasted Chili and Portabello Quesadillas
Ms B.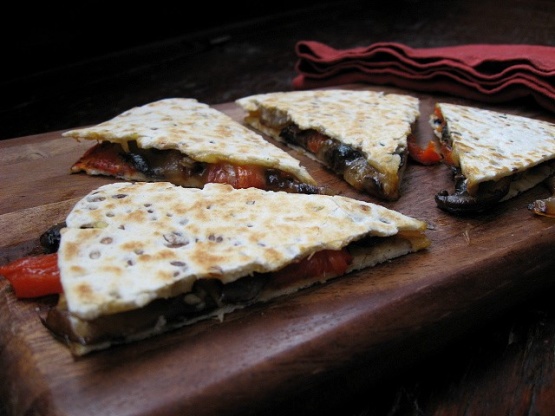 Got this recipe at the recent Hatch Chili Festival at Central Market. You can substitute canned chilis, drained or any kind of peppers you have available to your taste.

Top Review by Ms B.
These are the best quesadillas that I have had in some time, and I didn't even have the Hatch chiles. I used roasted red chile, sauteed my mushrooms with sliced onions, and added grilled chicken to my hubby's quesadilla. I had multi-grain flour tortillas on hand and really liked the crunch of the seeds and nuts in the crispy tortilla. Our cheese was a cheddar and monterey jack blend, and we really only used less than a cup for both quesadillas. The veggie fillings were flavorful enough that lots of cheese wasn't necessary at all. Recipe #10529 was a great complement to these, and I highly recommend both recipes to anyone.
Roast chilis in the oven or on the grill, seed, chop and set aside.
Saute mushrooms in olive oil till tender.
You can brush them with oil and grill them whole, then chop.
On a skillet over medium high heat, sprinkle 1 tortilla with cheese.
Top cheese with mushrooms and chilis.
Top with another tortilla.
Heat both sides til crisp.
Cut into triangles and serve warm.
We like to dunk into sour cream, guacamole or salsa.