Roasted, Caramelized Carrots With Garlic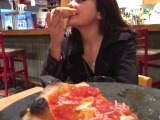 Oven roasted until the carrots are caramelized, it's so good and so super easy. Add the flavor of garlic and fresh parsley and send it over the top! This is a great side dish for any entree, and good enough to serve royalty! *Please do not use the little carrots marketed as "Baby carrots". Those are cut out pieces from deformed whole carrots and preserved in a chlorine bath since the pieces no longer have a skin to preserve them. I don't suggest cooking with pool water, either!
Directions
Preheat the oven to 375 degrees.
Chop the carrots into 1" pieces, season with salt and pepper and toss with a couple tbs of olive oil.
Place on a roasting pan. Do not cover.
Roast in the oven for about 45 minutes and then toss with the chopped garlic and a bit more olive oil if needed.
The carrots will need about 15 more minutes to soak in the garlic flavor and become caramelized.
Remove from the oven and toss in the parsley.
Reviews
Most Helpful
very tasty. I added a little bit of honey to make it sweet. I add honey to everything though lol
Thankfully, I doubled this recipe because it was delicious. Even with twelve carrots, I used only one tablespoon of olive oil because unlike with porous vegetables such as eggplant and zucchini, which absorb oil, carrots need only a small amount of oil to completely coat their firm texture. When I added the garlic, I did not stir. I just sprinkled the chopped garlic on top and roasted for the remaining time. Although I was out of parsley, Roasted Caramelized Carrots With Garlic tasted great without it. Thank you, Trinkets, for a savory side dish.

Not bad! I used baby carrots, and forgot the parsley, but still good. Even with baby carrots I let it cook in a covered glass casserole the whole amount of time in the recipe for the initial roasting, then uncovered after adding garlic. I'm not sure that was right, as the recipe doesn't say whether to cover this dish or not. I think next time I'll throw my garlic in a bit earlier or let it cook a few extra minutes after I add it so it can roast a bit more and sweeten, but that's the only change I'd make. Kids didn't care for this, but I was prepared for that. ;-) Served with tequila lime chicken off this site. Thanks for sharing.