Roasted Butternut Squash and Carrots.
Sageca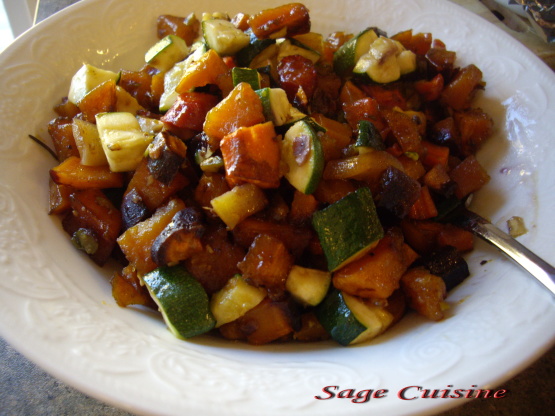 Roasted goodnes of fall harvest, Use your favourite ingredients. Cut your vegetables in 1'2 in cubes.
Spray baking dish with Pam.
Combine butternut squash and carrots in large bowl. Melt butter in small saucepan over medium heat. Whisk in maple syrup, garlic,rosemary, salad pepper ane pistacchio. Add to squash mixture and toss to coat.
Transfer mixture to prepared baking dish. .
DO AHEAD: Can be made 1 day ahead. Cover and chill. Bring to room temperature before continuing.
Preheat oven to 375°F Cover squash mixture with foil. Bake covered 40 minutes. Uncover; add zucchini bake until all vegetables are tender, about 20 minutes longer.
I you can find coloured carrots or add your choice of parsnip of other winter squash.