Roasted Brussels Sprouts With Dill
Brenda.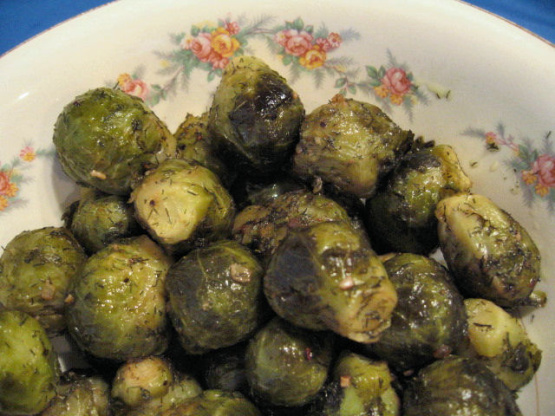 I found this years ago online and have made a few changes. The large amount of dill weed may seem over-the-top, but it pays off. People who hate sprouts love these. Well, most of them. These are good hot or cold - if any are left over.

I really was not fond of these. I had steamed the brussel sprouts and they tasted so good. When I roasted them with all that vinegar they turned a bit bitter. I think it is probably a great technique that I might try to tweak to our tastes. I made this for Spring PAC.
Trim the sprouts and cut them in half.
Steam the sprouts for 8-10 minutes, depending on their size; drain them.
Let them cool if you want to prepare them ahead of time, up to this point.
Line a large baking pan with foil and spray with non-stick spray.
Mix the rest of the ingredients.
Put the sprouts in a large zip lock bag and add the dressing; mix them well.
At this point you may either store them for roasting later in the day, or pour the sprouts and dressing into the prepared baking pan and roast them.
Roast at 450 until done the way you like them.
Parboiling cuts the roasting time down and helps the sprouts absorb the dressing.