Roast Rack of Lamb With Herb Crust
Jb Tyler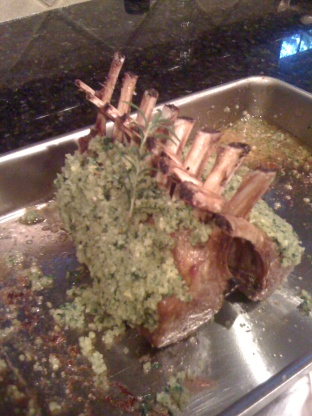 This is such an elegant entree. The presentation is just beautiful - with the chops bones - and the beautifully browned crust.....so good. I served this with smashed garlic potatoes and Favorite Creamed Spinach - Favorite Creamed Spinach
Preheat oven to 425 degrees F.
Combine bread crumbs, rosemary, parsley, garlic, olive oil, and lemon juice - salt and pepper to taste. Mix.
In a roasting pan, roast lamb bone side down (cover the frenched bones with foil to keep from burning, if desired). Roast for about 25 minutes.
Remove lamb from oven, pack the herb-crumb mixture on the meat side of the lamb, pressing firmly.
Broil for 4-6 minutes more, or until the crust is browned. (Medium would be an internal temperature of 160 degrees).
Arrange the racks, meat/crust side out, weave the bones together so it stands up. Let lamb sit for about 10 minutes before serving. To serve, grasp the bone, and with a sharp knife cut a chop off, or if desired, cut double chops for a pretty presentation.