Ricotta, Tomato and Basil Torte
Katzen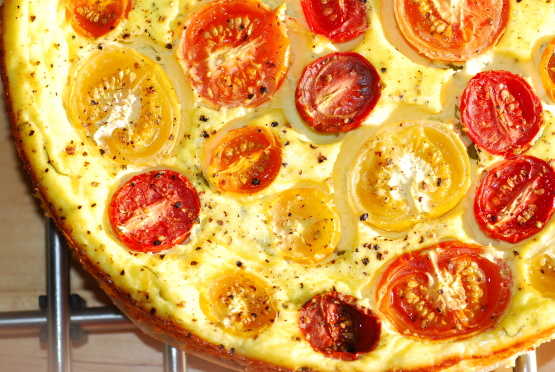 A delicious light meal with a salad. Great to take on picnics to serve instead of sandwiches or bread. Can be lightly heated and served warm. Recipe from Australian Coeliac Society Magazine Nov/Dec 09 Cooking time does not include chill time in the fridge

Top Review by Katzen
This torte is as beautiful as it is delicious - and simple to make, besides. It smells divine and irresistable when it comes out of the oven! I used a pint of multi colured tomatoes which only added to the visual and taste appeal. I finished it with a fresh grinding of tri-colour pepper. Thanks so much, Jubes, for posting this, and CG, for putting this in your Best of 2010 Book, I'm so glad I got to try it. I'm putting this one in my Best of 2011 Book, too.
Preheat your oven to 180°C (360°F ) Oil side and line with baking paper the base of 20cm springform tin.
Beat ricotta, feta, eggs and garlic until smooth. Stir in basil.
Put into prepared tin and smooth top. Arrange tomatoes on top cut-side up.
Bake in preheated oven for 1 hour or until set and golden.
Cool completely before putting in fridge for at least1 hour to firm.