Boomette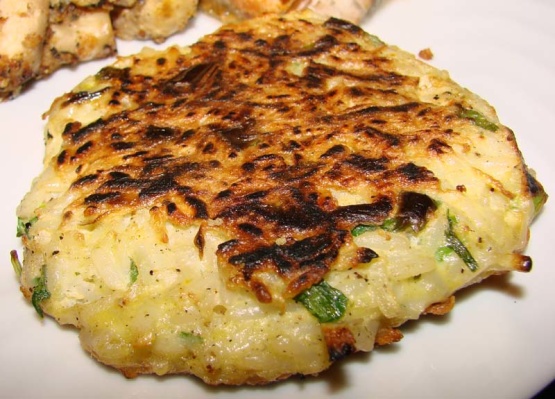 From The Food and Cooking of Spain, Africa and the Middle East. These are nice with dishes with creamy sauces. Posted for ZWT III.

This a a good recipe! The taste devine. Make sure when you grate the potato, you squeeze the moisture out of the potato, otherwise it will spit and pop in the oil and it will not stay together as well. The tortitas could be serve with a sauce as well.
Heat half the olive oil in a large frying pan and stir-fry the rice, with the potato, scallions and garlic, over high heat for 3 minutes till golden.
Tip the rice and vegetable mixture into a bowl and stir in the parsley and eggs with the paprika and plenty of salt and pepper.
Mix well.
Heat the remaining oil in the frying pan and drop in large spoonfuls of the rice mixture, leaving room for spreading.
Cook the tortitas for 1-2 minutes on each side.
Drain the tortitas on paper towels and keep hot while cooking the rest.
Serve hot. Can be served as a scoop for soft veggie mixtures or dips/sauces.