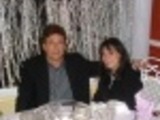 With all that leftover holiday turkey, what else can you do but make sandwiches? Here's something a little different to try. It's similar to a classic Reuben, but is not as fattening.
8 slices marbled rye bread
4 tablespoons Russian salad dressing, fat-free
8 ounces cooked turkey, sliced
4 slices swiss cheese (about 3/4 oz. each)
2 cups Coleslaw, deli
4 slices red onions, thin slices, separated into rings
Directions
Preheat oven to 425 degrees Fahrenheit.
Arrange bread sliced on a cookie sheet; bake 3 to 4 minutes per side until lightly toasted.
Spread each slice of toast with Russian dressing.
Top 4 of the slices with turkey and cheese; bake 4 minutes or until cheese melts.
Top cheese with coleslaw and onion rings; cover with remaining toast.
Reviews
Most Helpful
What a sandwich!

We loved this version. The flavors were well matched.


Would not change a thing.

So glad I tried this one.