Renal-Friendly Jerk Pork Tenderloin

This recipe comes from the brand new cookbook "Kidney Friendly Comfort Foods" endorsed by Isaac Hayes. This dish is not only VERY low in sodium, phosphorus and potassium, it's also very delicious and simple to prepare! As a dialysis patient, I'm always on the lookout for these kinds of recipes and I just thought I'd share!
Directions
Preheat oven to 350 degrees.
Mix last 8 ingredients and coat pork tenderloin.
Marinate at least 2 hours.
Roast uncovered for about 35 minutes or until internal temperature is 160 degrees.
Let roast sit about 10 minutes to let juices settle.
Slice and serve!
Most Helpful
Tried this with pork tenderloin in the rotisserie and it was great. Didn't change a thing and meat was so tender and juicy. Will be making it again.
I can't tell you how fantastic this tasted!!! I used my outdoor rotisserie to cook it...and did add about 1 tsp of kosher salt to the rub as we do not have problems with salt in our family. The results were outstanding! Even my 9 yo daughter asked me to make her a sandwich with it for tomorrow's school lunch. I think we may have fights over the leftovers ;-) Into my permanant cookbook it goes. ~~~~ Update: I've made this about 5 times now and still love it. For smaller meals I use 2 very thick cut pork loin chops and then cut them in thin slices. This is a real crowd pleaser!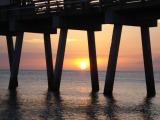 Well we really enjoyed this one. My Dad follows a renal diet and it is so great to be able to make a worry free and delicious meal for him! I roasted this on the barbeque, and used Scotch Bonnet Peppers. It had a good zing, but not too hot for us. It would have been great without the peppers too! Thanks for a great recipe!