Red Lobster® Nantucket Baked Cod by Todd Wilbur
Dine Dish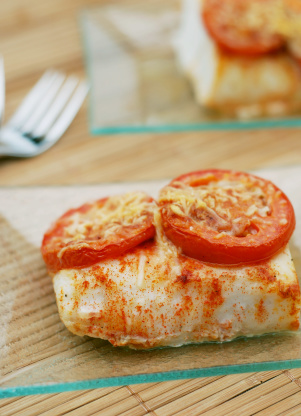 Todd Wilbur- TSR www.TopSecretRecipes.com. Menu description "a flaky white fish backed with fresh tomatoes & parmesan, served with rice"

I made this a few nights ago with Haddock Filet, nothing special Just cheap and frozen. I dont eat fish often but this was just amazing!! Im making it again tonight with Cod FIlets. I also sprinkled Bread crumbs over the top.. It gave it a little something extra, but It did not need it!
Combine all spices in a small bowl and set aside.
Preheat oven to 425°. Cut fish into 4 (two per serving), and place fillets in a 9 x 13-inch baking pan.
Melt butter in a small bowl in the microwave for 10-20 seconds. Brush the top of each fillet with butter, squeeze little lemon juice on the fish, then sprinkle the spice blend evenly over the top of each fillet.
Arrange 2 to 3 tomato slices over top of each fillet.
Sprinkle grated parmesan cheese over each tomato slice. Each slice should be about half covered.
Bake the fish, uncovered, for 8 minutes, then turn oven to a high broil and continue to cook for 6 to 8 minutes, or until cheese on tomatoes begins to brown.
Serve two pieces of fish per serving with rice on the side.