Linky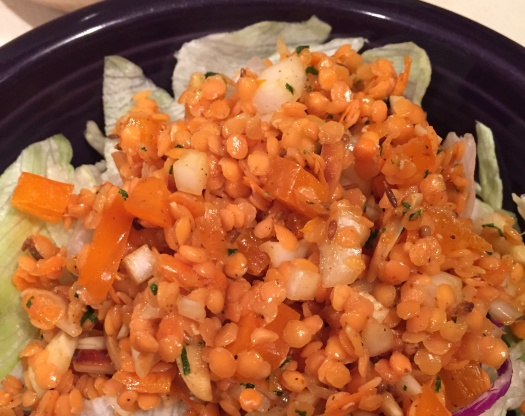 A delicious recipe from Bal Arneson. I love red lentils because they are so tender -- they blend into all the other ingredients and add a wonderful texture to the dish!

Top Review by Linky
I think I will make this again, and here's why: I had a lot of substitutions and I'm still learning how to use my electric stove = I miss my gas stove! Anyway used olive oil for grapeseed oil, used tandoori masala spice, used onion instead of radish, orange pepper instead of red. None of that should have mattered, but I think I had my oil too hot and when I added the ginger and garlic, it splattered all over my stove, counter, cupboards, me. Now I know that liquid added to hot fat spatters, but this was phenomenal! So my spices were in a big clump once I added them to the exhausted eruption in my skillet. I think too much of the oil had left the pan - more was decorating my kitchen surfaces than remained in the pan. But it all worked out in the end. The cumin taste was a bit overpowering, but I think by tomorrow it will have tempered. This was an adventure! Thanks, Nancy
Toast the almonds in a heavy skillet over medium heat until they are golden and very aromatic, 5-6 minutes. Roughly chop them and set aside.
Put the lentils in a medium saucepan and cover with cold water. Place over medium-high heat and bring to a boil. Cook until they are just barely tender and still quite red, about 2 minutes. Drain and rinse with cold water to halt the cooking process. Shake out all excess water and then put the lentils into a large bowl.
Pour the oil in a skillet and when hot, add the ginger and garlic and cook for 1 minute. Add the garam masala, cumin, mustard, cardamom and coriander seeds and cook for 1 minute. Add the lime juice and pour over the lentils. Add the carrots, radish, red peppers, cilantro and mint. Season with salt and pepper and toss well to combine.
Line a serving platter with overlapping lettuce leaves. Mount the lentil salad over them. Sprinkle with toasted almonds and serve.