Boomette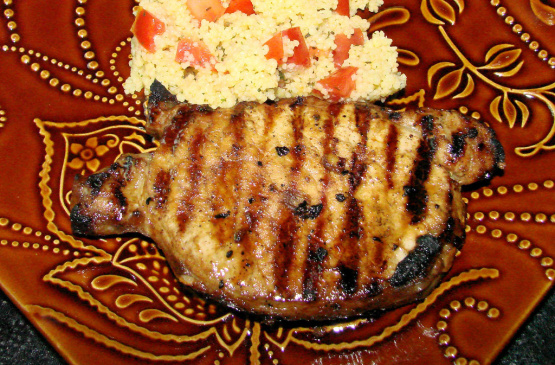 "Red" refers to a Chinese style of cooking where the food is cooked with soy sauce (the chops will turn red). Meat must marinate 2-4 hours. The original recipe called for 2 Tbsp minced onion in the marinade as well, but I leave them out as I don't like onions.

Very delicious Hong Shao recipe- I used thin cut pork chops and marinated them overnight- the flavor soaked through completely. If you have it, dark soy sauce/mushroom flavored soy sauce will add an extra dimension to the marinade, as will star anise. I will be making this again as it is easy to prepare, huge on flavor. :)
Mix together all ingredients except the pork chops.
Add pork and coat both sides with marinade and marinate in refrigerator for 2-4 hours.
Drain chops, discarding marinade.
Place in baking dish and roast at 400F in the oven for 20-25 minutes or grill over direct heat for 8-10 minutes, turning once.